It's that time of year again, the holiday season is upon us. It seems like just yesterday we were racking our brains trying to find the perfect gift for our loved ones, but here we are again. Some people are easy to shop for, others not so much. Shopping for a vegan can be tricky, especially if you are not vegan yourself. Do not fret! We have a comprehensive guide to gifts that is sure to please any plant eater in your life. But first, you have to determine their interests. Do they like cooking, exploring the outdoors, fashion, activism? We've broken down some classic vegan stereotypes into groups to make shopping simple:
The Health Conscious Vegan
The health-conscious vegan is always on the look-out for something that will improve the quality of their life. Here are some simple ideas to show that health is true wealth this holiday season. Kombucha is a fermented tea that has been consumed for thousands of years by Asian cultures. The fermentation process creates probiotics that are great for gut health. It's no wonder this ancient drink has caught on it the Western world. Despite the health benefits, your wallet is likely to suffer if you develop a kombucha addiction. Save your health-conscious friend money by getting them a kombucha kit! You can purchase the SCOBY at from Tonica Kombucha at Whole Foods or online on sites like Kijiji. Then all you need is organic black tea, organic VEGAN sugar and jars for the fermentation process. Once they get the hang of it, they will be a kombucha brew master in no time.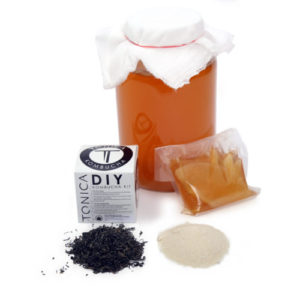 If kombucha making seems too labour intensive, you could get them a sprouting kit instead. Sprouts are incredibly healthy yet incredibly expensive at the grocery store. Skip the middleman and just buy the beans! Your friend will be forced to think of your incredible gift-giving skills every time they nourish their body with their home-sprouted greens. A great company to support is Mumm's sprouts as they are organic, Non-GMO and 100% Canadian.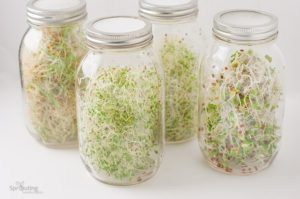 The Zero Waste Vegan
The Zero-Waste Vegan believes the best things in life aren't things at all! When asked what they want for Christmas, those on the zero-waste journey have likely said they do not want anything. This seems completely ludicrous in a world where Christmas is all about giving and receiving but try for a moment to see things from their perspective. Do material things equate to love and gratitude? Clearly, the answer is no, so how can you let them know how much they mean to you without the exchange of a tangible object? Why not give a gift of experience? Buy them a ticket to see their favourite artists in a concert or a comedy show. This gift will be meaningful because it offers you a chance to have quality time and the ability to make great memories. Just remember to NOT print off the tickets and email it to them instead!
If you can't get behind an experiential gift, try going as low-waste as possible. Perhaps gift them a low-maintenance plant like a cactus or succulent. Skip the wrapping paper and present it proudly in its unwrapped glory.
Another great idea is to support a local low-waste business like Bare Market. They sell makeup, toothpaste, laundry detergent and razors that are high quality and extremely environmentally conscious. You can also feel good about supporting a local, up-and-coming entrepreneur.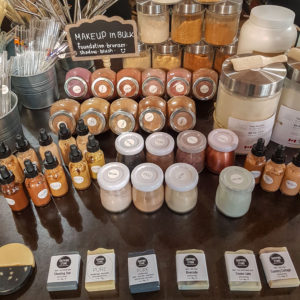 The Vegan Chef
The vegan chef in your life is changing the world one meal at a time. You feel you owe them a meaningful gift for all the incredible plant-based meals they've cooked for you. Don't repay the favour by trying to outdo them in the culinary arena, instead support their love of cooking with these gift ideas. If they are used to creating recipes out of thin air, challenge them with a vegan cookbook to follow! Top sellers are Hot For Food: Comfort Classic by Lauren Toyota, Oh She Glows by Angela Liddon and Forks Over Knives by Del Sroufe. You could also get them a specialty cookbook that focuses on mastering mock meats and cheeses like This Cheese is Nuts by Julie Piatt or The Homemade Vegan Pantry by Miyoko Schinner. Even though they may have mastered the art of vegan cooking, with 20,000 edible plants, there is always something new to learn.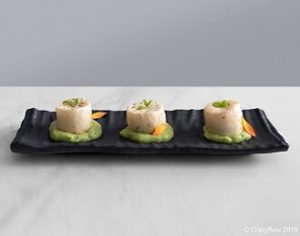 The Vegan Fashionista
This person is fluent in fashion language and always puts their best footwear forward, leather free of course. Shopping for the vegan fashionista in your life means hitting up all the ethical shops the city has to offer. A great one-stop-shop is The Imperative located in Parkdale. With a wide array of cruelty-free clothing, belts, shoes, and accessories, you're sure to find something they love (and you may even walk out with something for yourself too!). You could also shop online for Canada made goods like Matt n Nat or Pixie Mood! With such incredible alternatives to leather products, the excuses for continuing to wear leather are wearing thin. Style can be very subjective so we would suggest buying something specific only if you know they would love it, or have the chance to exchange the item. Another great option is to get them a gift card to their favorite shop, giving them free rein over their style selections.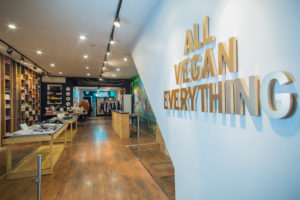 The Vegan Adventurer
Adventure is always calling for this nature-loving vegan, so why not get them a gift that they can enjoy in the great outdoors! First, you must establish a need. There is nothing worse than receiving a gift you simply have no use for. So think hard about what they will actually use so that we can create less unnecessary strain on the Earth's resources. Maybe their coat has holes in it from overuse: pop into your local Patagonia or Lole and ask for vegan coats. Rather than using down, these coats will consist of an ultralightweight and extremely warm material called Primaloft. This material was designed for the US Army so there is no doubt about quality.
Or maybe they have been dreaming about getting a hammock. Make this dream a reality with a customized Ticket to The Moon hammock. Handmade in Indonesia, these hammocks come with a lifetime guarantee so you won't need to fret about frays.
If you are looking for a less expensive gift without compromising on quality, look no further than Buff! Buffs are an awesome multi-use head-wear product that is perfect as a bandanna, hat, eye shade or neck-warmer. They also keep the hair at bay during camping trips. Just be sure to avoid any Merino wool as this is not vegan or sheep friendly.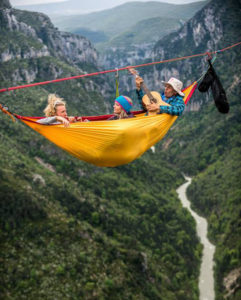 The Vegan Activist
When it comes to vegan activists, all we want for Christmas is Animal Liberation. So if you really want to please the plant pusher in your life, watch that documentary they have been bugging you about. Go to the Vigil they have been inviting you to. Attend the Cube of Truth they're always telling you about. Commit to taking Challenge 22 to try veganism for 22 days. The most meaningful thing for an activist is to see those they care about making substantive changes towards veganism. These small acts of selflessness will warm their heart more than a vegan sweater ever could.
If you are still hung up on getting them a physical gift, support their activism by gifting them apparel to help wear their heart on their sleeve. Buy them a Toronto Cow, Pig or Chicken Save sweater, shirt, tote bag or hat. Get them some Sea Shepherd merch or support an activist overseas by purchasing Anticarnist apparel. Not only will your friend get awesome threads, but you will be supporting ethical activist organizations through your purchase. It truly is the gift that keeps on giving.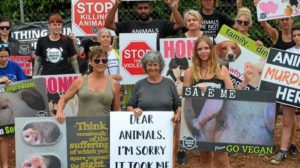 Now that you have some ideas flowing, feel free to make these gift ideas your own. There is no such thing as the perfect gift. It is the intentions behind that gift that truly mean something. Being genuinely interested in the vegan lifestyle and ensuring your actions align with those values is more meaningful than any physical present could ever be. It truly is the thought that counts. So now that you've done a lot of thinking about the vegan lifestyle for others, perhaps the gift of veganism is something you are ready to receive for 2019. After all, there has never been a better time than the present.