Breakfast is dubbed the most important meal of the day for a reason. Eating a healthy, filling breakfast can set the tone for the rest of the day and mean the difference between a productive day or feeling that afternoon slump. In defense of breakfast, here are 3 simple recipes to start the day off on the right foot:
Smoothies
Smoothies are the perfect way to start a busy morning. They are fast and simple but can be dressed up in so many endless variations. The basics to a bomb smoothie are ripe bananas (preferably frozen), fresh or frozen fruit and water or plant milk. You can liven up your drink with a peeled piece of ginger or a dash of cocoa powder. For an extra health kick, go ahead and add in some greens, ground flax or vegan protein powder. Simply blend all ingredients together and voila! Liquid nutrition on the go. Once you make smoothies a part of your routine, mornings won't feel the same without them.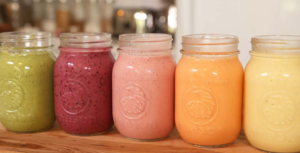 Oats
Another, more filling breakfast idea is a twist on the classic breakfast: Oatmeal. This dish is so versatile it can suit any palette preference. For the everyday busy worker bee, the ideal way to prepare this dish is in a mason jar. Simply pour in some quick oats, add in a dash of cinnamon, mix with non-diary milk and a splash of maple syrup. Next, you can add in some fruit like berries, apples and pomegranate seeds. Top with hemp hearts, pumpkin seed or walnuts for a satiating serving that will keep you fuller longer.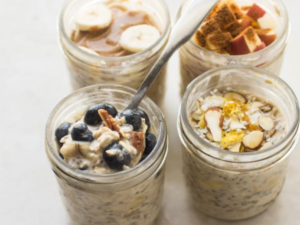 Toast
If you have a couple extra minutes in the morning, take the time for some toast! You cannot go wrong with this breakfast staple. Here are a few ideas to make toast more exciting:
Avocado toast lives up to the hype only when done right. Be sure to add a dusting of salt and pepper, along with a spritz of citrus like lime. One pro-tip is to mash the avocado with a fork while it is still in its skin, this makes for spreading on toast much easier. You could also sub avocado for hummus if you are looking to save a few bucks.
More of a morning sweet-tooth? Kick it old school with classic peanut butter and jam but jazz it up a bit with sliced banana or strawberries on top. Add some cinnamon and hemp hearts to make this meal Instagram worthy.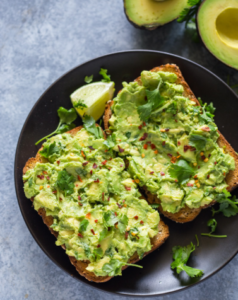 Which breakfast best suits your lifestyle?
A simple smoothie, hearty oats or classic toast?
Let us know on our Instagram @CrazyRawDotCom or Facebook @CrazyRaw